Since reading about the Mexican state of Chiapas, known for its natural beauty, I've been daydreaming about its landscapes being swathed in the blues and greens of its numerous waterfalls and lush jungles. Unfortunately because of our lengthy border crossing debacle we have less than two weeks to explore the entire region before family come to visit us in the Yucatan.
Following the Mexico/Guatemala border, we navigate numerous mountain passes, tiny villages and a ridiculous amount of topes to the blue waters of El Chiflon. The blue is the color of the liquid you might see in the Kool-Aid filled cup of a child; nothing you would ever imagine in a mountain stream. We camp in a shady, empty lot.
Early the next morning we hike the shoreline of several cascading waterfalls to its grandiose, towering finale.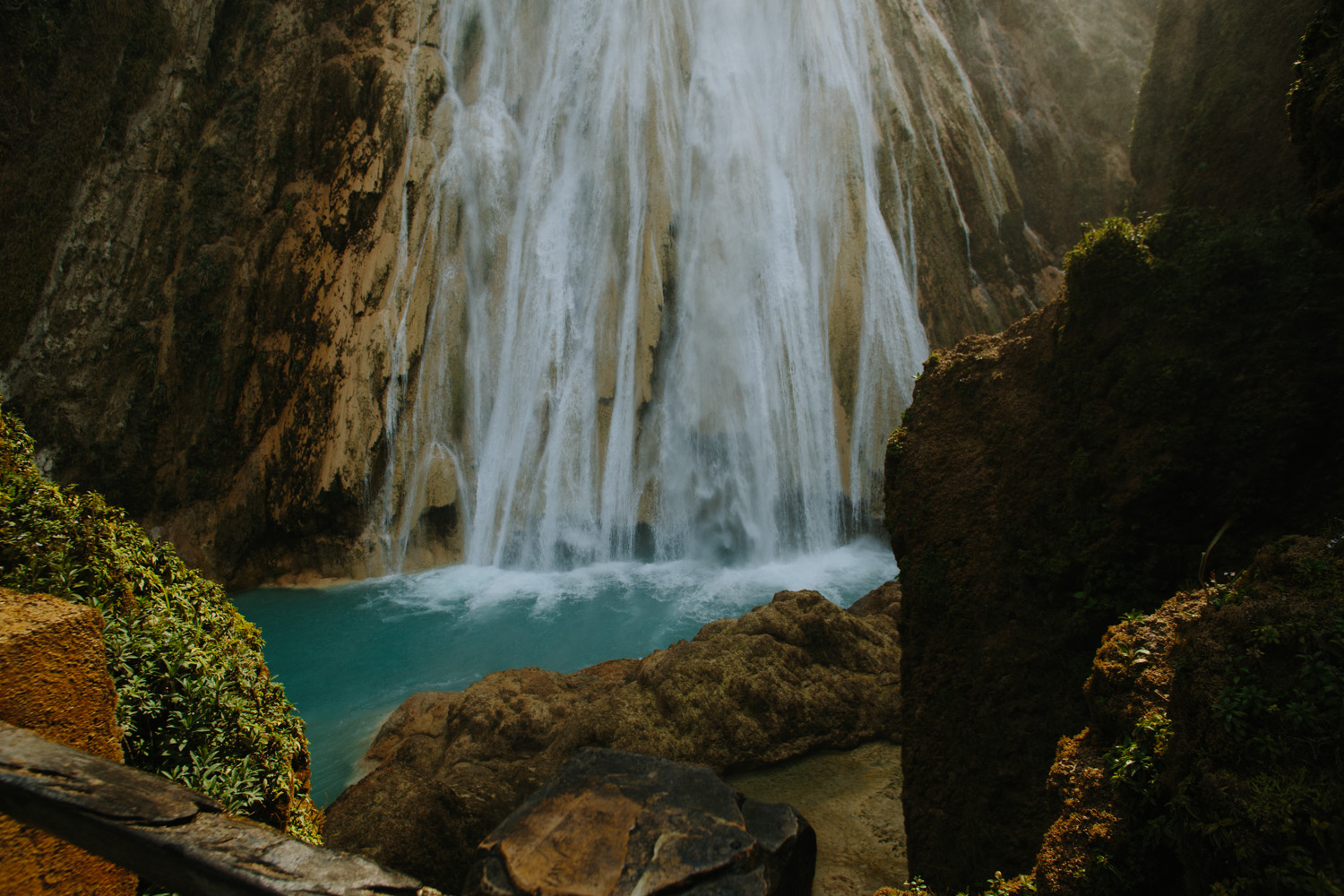 On the way back down we stop and swim in one of the numerous, chilly swimming holes. Normally we would stay another day or four, but we're on a schedule so we pack up and hit the road.
We end a short day of driving in the town of San Cristobal de las Casas, finding our friends Joe and Josee camped at the cozy campground on the outskirts of town. They offer to babysit Malta so we can explore the town unencumbered by our four legged child. Restaurant options abound and our indecisiveness has us wandering the colorful streets longer than intended.
Finally settling on a Tapas bar we meet two entertaining Australians, drink copious amounts of wine and stay out way too late... like proper irresponsible parents.
The next day we're up later than expected with mild headaches and sluggish thoughts. We'd hoped to start the day's drive from San Cristobal to the ruins of Palenque early. We'd heard from various sources that we might run across makeshift road blocks where masked Zapatista's (a radical group that has had issues with the Mexican government for decades) toting guns would make you pay money before you could pass. Nervously we start our drive around noon, caravanning behind Joe and Josee. We think we're in the clear after hours on the road until we run into a long line of cars. Sure enough after 30 minutes it's our turn to pass. There are no masks or guns, and the whole town seems to be out watching the show. There is however a long wooden board decorated with rusty nails blocking the road. Several not overtly hostile but remarkably unfriendly men wait outside our window as we roll it down. They hand us a typed paper which we assume has the reasoning behind these blockades, demand 300 pesos and don't let us pass until we pay. We run into two more, both being less intimidating and less expensive. At no point are we afraid of being harmed, but it's the only moment in our several months driving through Mexico that we feel uncomfortable and unwelcome.
We safely reach the campground near the ruins of Palenque and what, for the first time, feels like a tropical jungle. The foliage is thicker, the dampness in the air heavier and the plants and insects larger. We see fireflies who's lit bums are the size of quarters. Then there's the howler monkeys who occupy the trees all around us. Filling the sky with their demonic cry's every dawn and dusk, they make an interesting backdrop to our pool lounging and chats with Joe and Josee and our new friends and fellow Pan-Am overlanders, Mark and Saskia.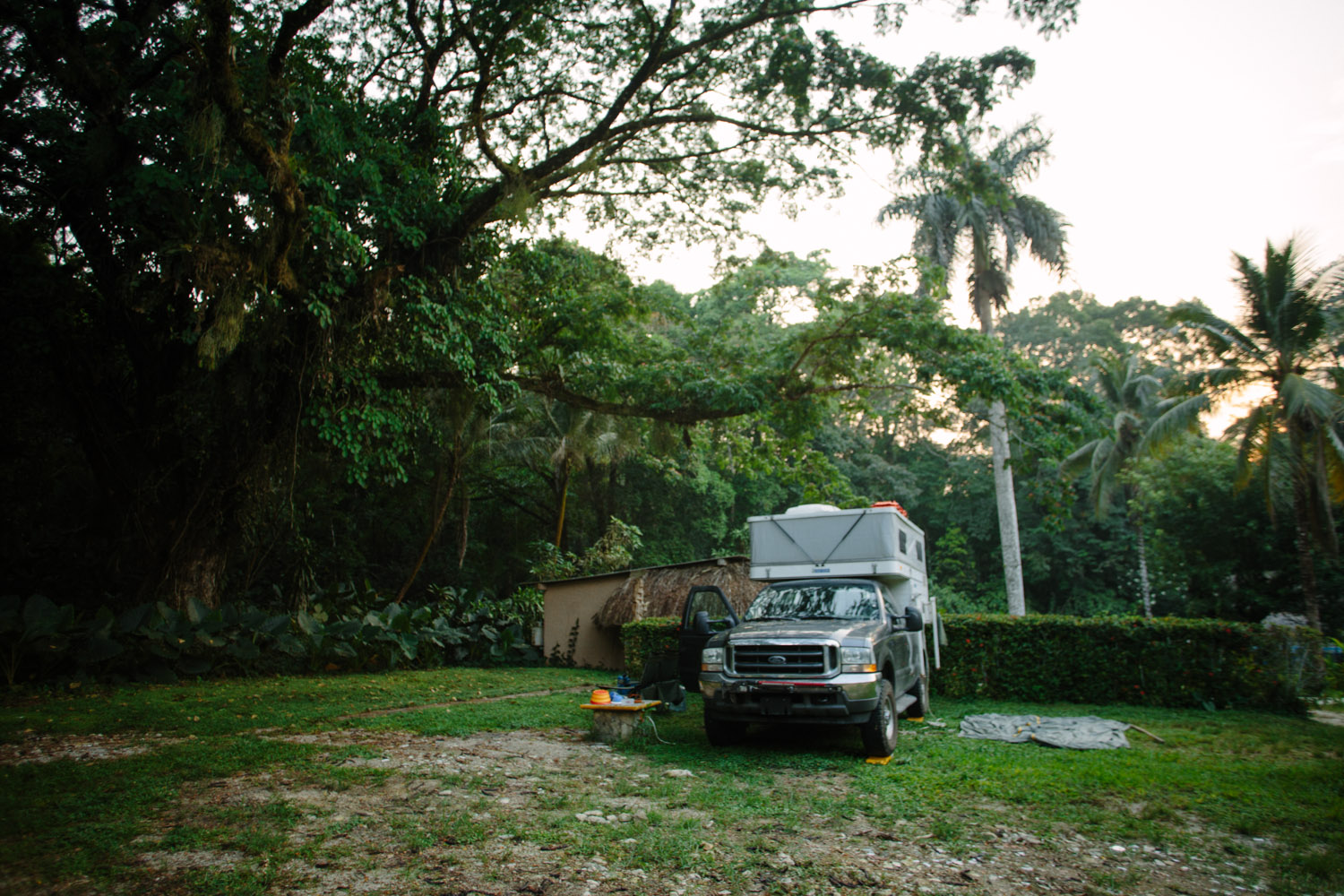 Once more we wake early and make our way into Quintana Roo traveling on the best roads we've seen in Mexico, arriving at our next camp spot 30 minutes before our GPS quotes us; a first. Again we find ourselves next to this other-worldly blue water, this time of the fresh water lake Bacalar.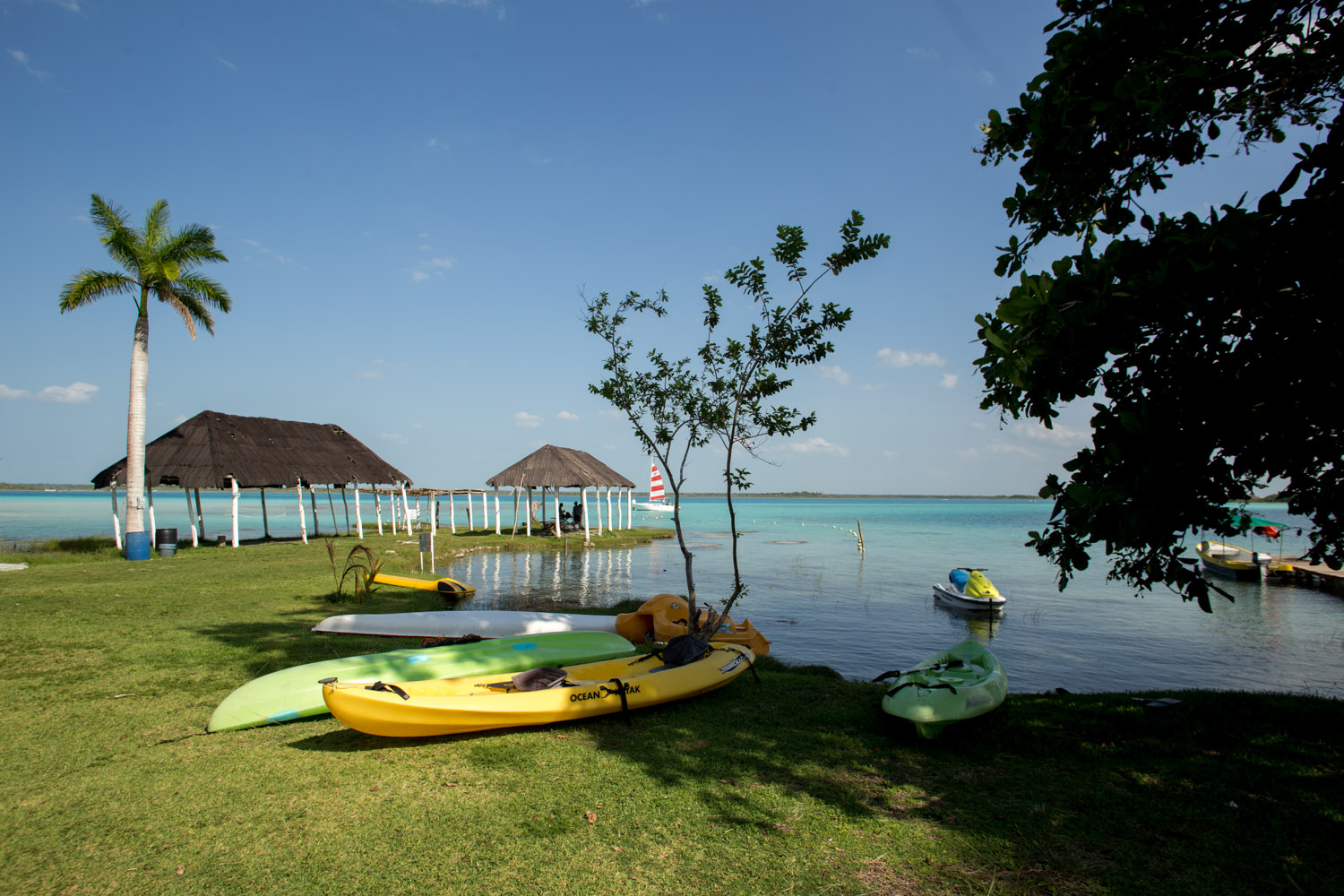 We stay for a few days and our exhaustion reassures us that our prior dawdling travel speed is perfect for us.